Planned Giving

It Just Makes Good Sense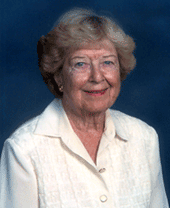 Mary Lou: "Can I get a gift annuity from you to support my parish?" That's what I wanted to know when I called the Diocese Gift Planning Office.

Episcopal Gift (EG): What did they say?

Mary Lou: Fr. Schaper said, "You sure can!" But he seemed surprised that I knew about gift annuities. "How do you know about gift annuities?" he wanted to know. "I worked for the Red Cross for many years," I told him. "I have a gift annuity for them; now I want one for St. Clement's."

EG: What happened next?

Mary Lou: Fr. Schaper mailed me an illustration that showed how much income I would get and how much of the income would be tax free. We agreed to meet at St. Clement's so that I could sign the application and give him the check for the annuity.

EG: That sounds pretty simple.

Mary Lou: Nothing could be simpler. When my contract came back Fr. Schaper brought it to my house. He also enrolled me in The Bishop's Society.

EG: What do you like about a gift annuity?

Mary Lou: I wanted to leave some money to St. Clement?s in my will. This church has meant so much to me! By giving it now through a gift annuity, I get income from it and a nice income tax deduction. It just makes good sense to give this way.